What is Tata Neu? The All-in-One Super App by Tata Group
2 months ago

|

By Md. Asloob Alam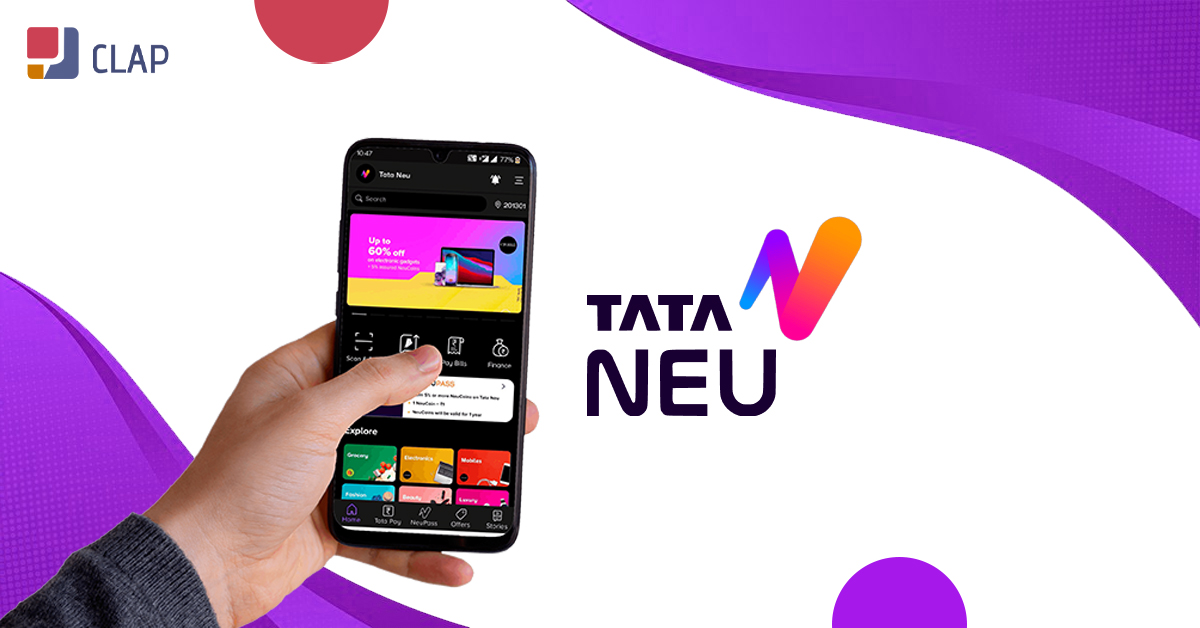 Even though Tata Neu has a sizable number of users, some potential users are still contemplating the query 'What is Tata Neu?' because it struggled to establish traction in the Indian market.
To address your question, Tata Neu is a super-app designed to provide a variety of functions. It was created in India by the Tata Group Technology, which calls it the nation's first super-app that you can use for banking services, special offers, rewards, online shopping, travel bookings, bill payments, and more.
Table of Contents
What is a Super app?
A super-app is a mobile or web application that brings together the functions of platforms, e-commerce apps, and ecosystems that enable third parties to develop and market mini-apps to offer you a variety of services like bill payments, table reservations, flight ticket booking, and so forth.
Tata Neu' Launch
Tata Neu's launch date occurs before the commencement of an Indian Premier League game on April 7, 2022. The super app had begun receiving public promotion as one of the top Tata Group innovations at the same time as the existing Indian Premier League competition. But initially, the Tata Super app was once only available to Tata Group workers.
After a slow start in its first year of operation, the Tata Group Super app is prepared for rapid growth amid the Indian Premier League (IPL). The IPL's official sponsor is Tata Group. Since its debut in April of last year, Neu has reportedly contributed less than 10% of gross revenue to Tata's two largest digital businesses, comprising the grocery store BigBasket and the online pharmacy 1mg. In addition, it boosted some of the Tata services.
Perks of using the Tata Neu Super app
Tata Neu was created to embrace Tata's digital initiatives, which result in an excellent shopping experience for customers. Because all-in-one apps are so popular, combining the most reputable brands from the Tata Group into one app gives customers a remarkable amount of variety and flexibility.
The Tata Neu app offers a variety of services on one platform, thereby rendering it more simple for users to use the app for all of their requirements. Because users are less inclined to scatter between multiple apps as a result, there is an improvement in user retention, which results in a wider audience and higher engagement rates.
Tata Pay UPI users can use their bank accounts to send money to friends, family, and other connections.
Using its bill payment services, users can track their bills with ease like electricity, mobile recharge, and others.
A rewards program is available in Tata Neu, intending to maximize savings while allowing for earning anywhere.
A Tata Neu member may make payments in addition to using Tata Pay using debit cards, credit cards, net banking, Tata Pay Balance, prepaid items, UPI, or any other method of payment accepted by Tata Pay.
It gives them an advantage over others because they distinguish themselves from other apps on the market with a special value proposition. Businesses can draw in more users by offering a variety of services under a single app.
Tata Neu users have prompt access to credit, such as personal loans and credit lines, and they may also earn rewards on all credit card purchases. Additionally, it makes it possible for customers to safeguard their assets and increase their wealth through specially designed insurance plans made particularly for them.
NeuCoins, cards, UPI, EMI, and other payment methods are accepted across the wide range of Tata brand apps, websites, and businesses.
To better the experience of customers BigBasket, Air Asia, Indian Hotels CoCroma, Qmin, Starbucks, Tata 1Mg, Tata Play, Tata CLiQ, Westside, and others are all included in the group's Tata Neu.
The perks given above should have clarified your query, 'What is Tata Neu?' so effectively.
What are NeuCoins?
Tata Neu offers specials and deals on a variety of products and services, giving customers an affordable option. By taking advantage of these offers, customers can save money and avoid paying several prices for various services.
Customers can earn NeuCoins by purchasing on the Tata Neu app, website, or at any of the company's branded shops or hotels. Following that, they can use these NeuCoins to pay for future purchases. There is no restriction on the number of NeuCoins that can be earned or used, and each one is worth one rupee.
Neu users now frequently utilize Neu Coins as a form of loyalty because they can use them to pay for future purchases on the app. Neu Coins are credited based on the total value of the transaction.
Tata Neu Features and Services
This multipurpose super app offers enticing features and a wide range of services. Other than secure payments, you can avail of the following services:
Tata CLiQ and Westside will help them update their attire.
Shop Croma for the newest technology products.
Shop for groceries at Bigbasket.
Book a ticket with AirAsia India.
Obtain medical examinations from Tata 1mg.
Reserve your stay at an IHCL hotel.
Get a five-star lunch from Qmin.
The internal digital magazine at Tata Neu is called "Stories." It creates lifestyle-focused articles of a standard comparable to that of recognized newspapers to entertain, educate, and inspire readers.
With the new super app Clap Messenger and other super applications like PhonePay, Amazon, and others, Tata Neu may face intense competition. But in my estimation, when features are compared, Tata Neu and Clap Messenger can hold fierce competition in the future. As a result of the success of these applications, other businesses are inevitably developing their own amazing apps.
Clap Messenger
You may organize all your daily duties with the Super app Clap Messenger, which was developed in India. This Indian Super app also serves as your virtual assistant and helps you strike the balance between social and professional life.
Clap Messenger has various benefits over other messaging and call offerings, including secure payments, money splitting, community, album sharing, events, polling, call recordings, and appointment booking. For food delivery, trip arrangements, card and loan repayment, utilities, shopping, and other services, third-party merchants are likely to be embedded in the second phase.
Using the 'Community' function of the program, Clap Messenger users can establish and unite related groups under a single group. Administrators of communities can alert residents to significant developments by issuing announcements, and residents can stay involved by discovering more about and being involved in groups that are important to them. Members can easily organize in-depth discussion groups to address issues that are significant to them and to get community-wide updates.
Customer data is safeguarded from all cyber risks, hackers, and vandals thanks to this end-to-end encrypted super app.
Conclusion
I hope now you are well versed with the definition of 'what is Tata Neu?'.
Tata Neu combines the most recognized companies in the Tata group into an influential app that has been able to successfully onboard many users who have adapted to the super app concept, offering specific benefits and prizes across sectors. Today Tata Neu has millions of users but it doesn't have the communication features that Clap Messenger, a messaging-focused super app, does. So, people looking for an all-in-one app may gravitate towards Clap Messenger.