5 Best Apartment Community Apps for Keeping Residents Connected
11 months ago

|

By Md. Asloob Alam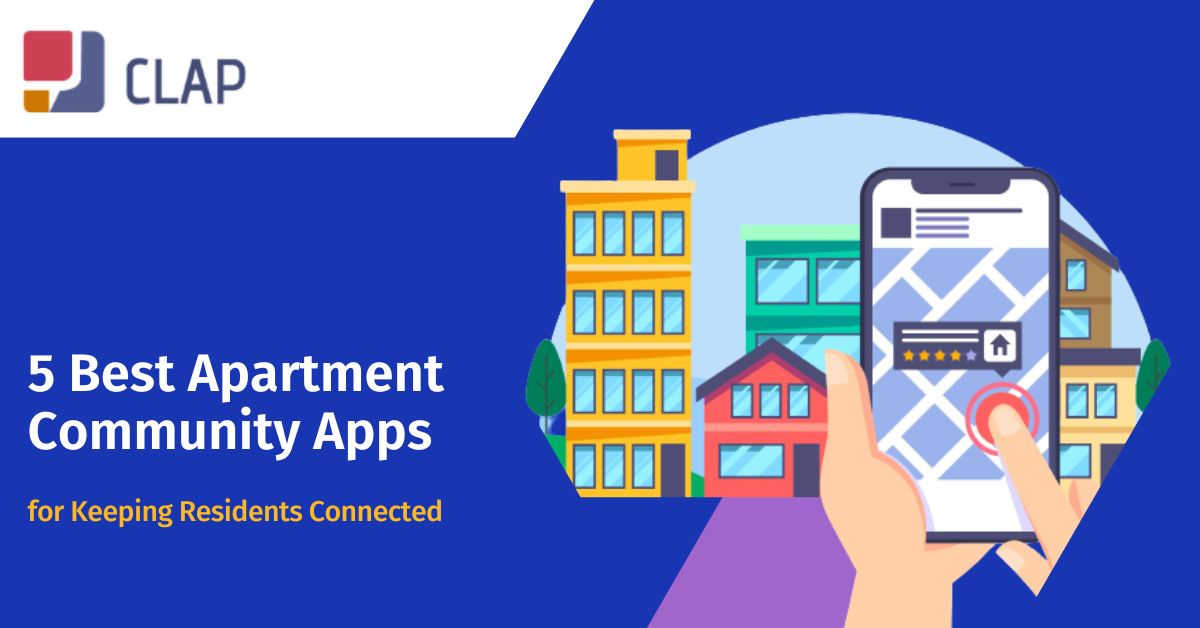 If you're looking to use one of the reliable and effective apartment community apps, then you should examine the following listed apps, but let's start in chronological order.
Table of Contents
What is an Apartment Community App?
The purpose of these apartment community apps is to simplify building operations for multi-family housing and enable remote work for property personnel. This one app can manage all the chores, including smart keys, security, maintenance, visitor authorization, and other amenities. They also encourage communication between residents and property management, improving societies.
Best Apartment Community Apps
There are several great apartment community apps available that can enhance the living experience for residents. Here are some of the best ones:
1. MyGate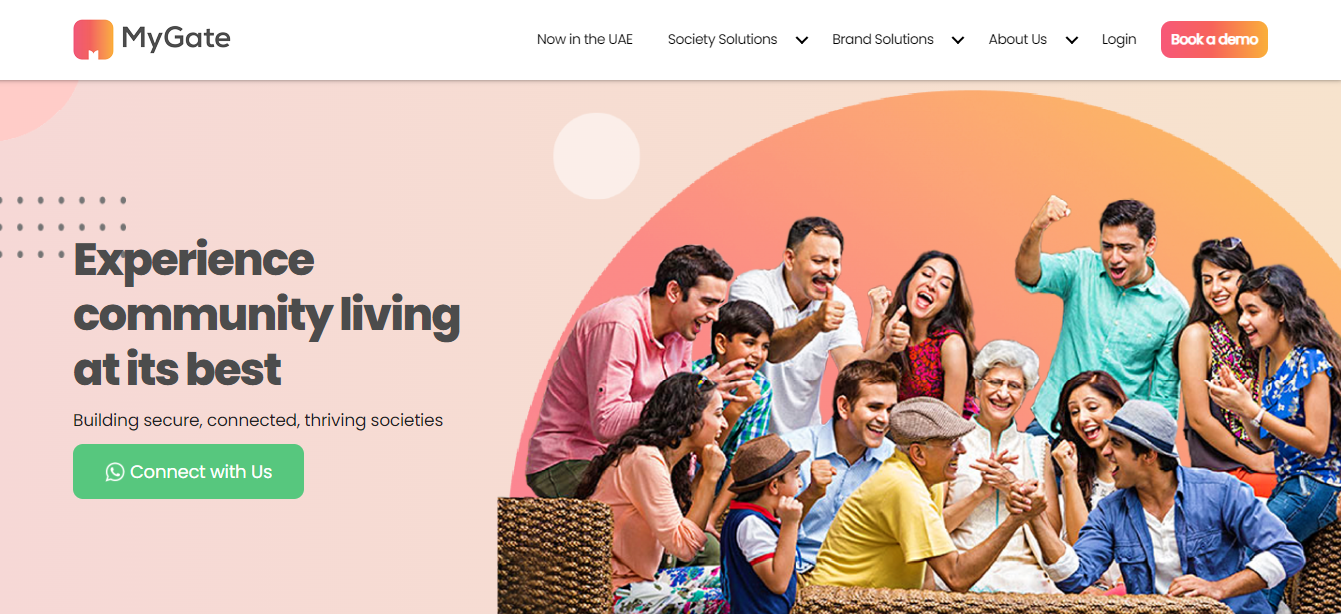 More than 25,000 communities across use and regard MyGate as one of the finest apartment community apps. This community app streamlines the apartment community's routine maintenance tasks and improves the security of your homes and neighborhoods. In India, this community engagement app is present in more than 3.5 million homes and 100 cities, so I'll leave it up to you to judge its security.
Start-up for society and community management MyCommunity Genie, a social commerce platform with headquarters in Bengaluru, has been purchased by MyGate in a part-cash, part-equity agreement.
In contrast to previous online community apps, it developed a community management strategy to bring brands to residents if they could not leave. The business has alliances with Grofers, ITC, StoreSe, Swiggy, Zomato, FreshMenu, Dunzo, and Box 8. As a result, MyGate ensures that only people authorized by community or apartment residents can enter the building, including visitors, delivery drivers, and daily staff. This increases security and unlocks a variety of other advantages for the entire neighborhood.
The Security Management module of MyGate streamlines residents' communication with the main gate staff. It lets households let guards be aware when they expect a guest or delivery and allows guards to ask for a resident's consent when someone arrives unexpectedly. This relationship, though it may seem unimportant, has the potential to transform any community. To safeguard user privacy and provide users control over their data, MyGate implemented Personal Data Protection (PDP) rules.
Communities run more smoothly thanks to the MyGate ERP module. It streamlines the workload of management committee members and enables them to provide an improved community experience for their residents by automating several operations.
2. SocietyRun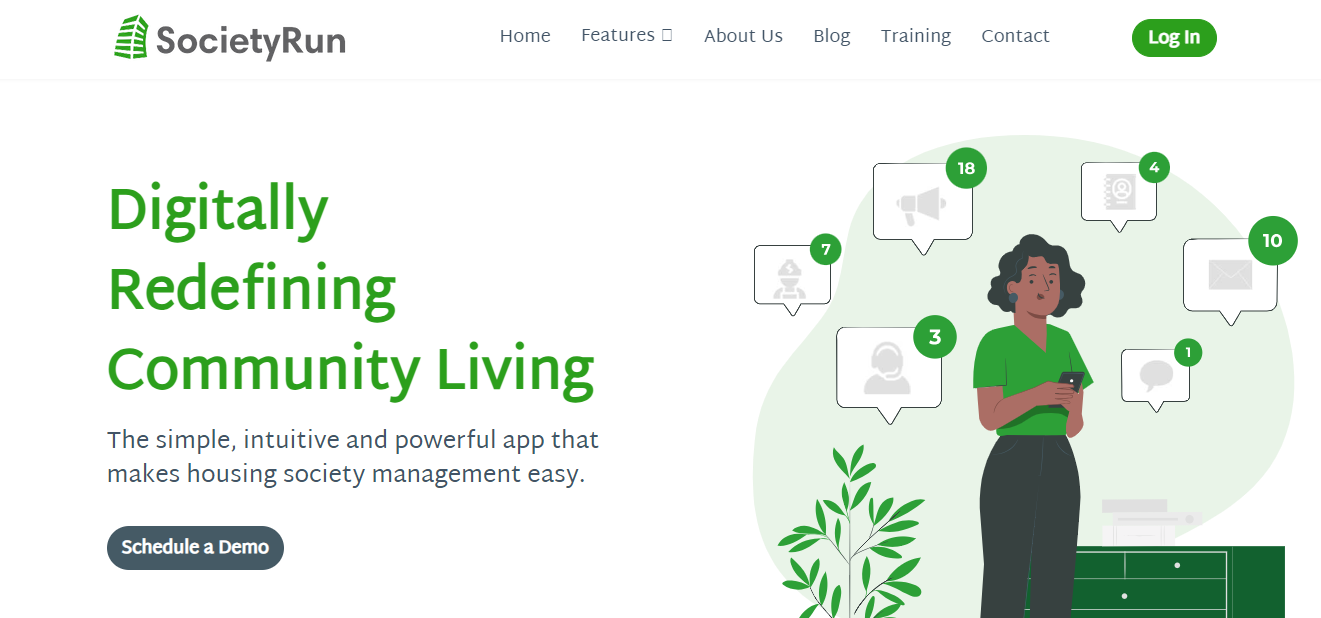 Among the best-known society management apps, SocietyRun offers online features like Society Share, Accounting, Data Management, and others to create and sustain excellent communication among society members.
It offers features like Instant Poll, Event Calendar, Notice Board, Photo Gallery, Members Achievement, and Email / SMS Broadcasting to foster communication. You may work effortlessly with the residents, exchange ideas via an instant poll, and manage your assignments.
It maintains society data using a tool for tracking meetings, a document repository, a system for handling complaints, and various registers like those for parking spaces and tenants, among other things. Its accounting solution makes the treasurer's job easier by automating processes and providing analytical reporting.
To ensure your security, it helps you authorize each individual, delivery, and package that enters your gated community.
In contrast to other social or apartment community apps, SocietyRun is the best app for communities because it offers a one-click alert option by sending email, mobile, and SMS alerts to society members as well as tenants to get information, connect with others in the community, and engage your community in activities like meetings, emergency drills, social events, and more.
The productivity and efficiency of your society can only be improved by a selected few community apps like SocietyRun due to its built-in tools.
3. Flamingo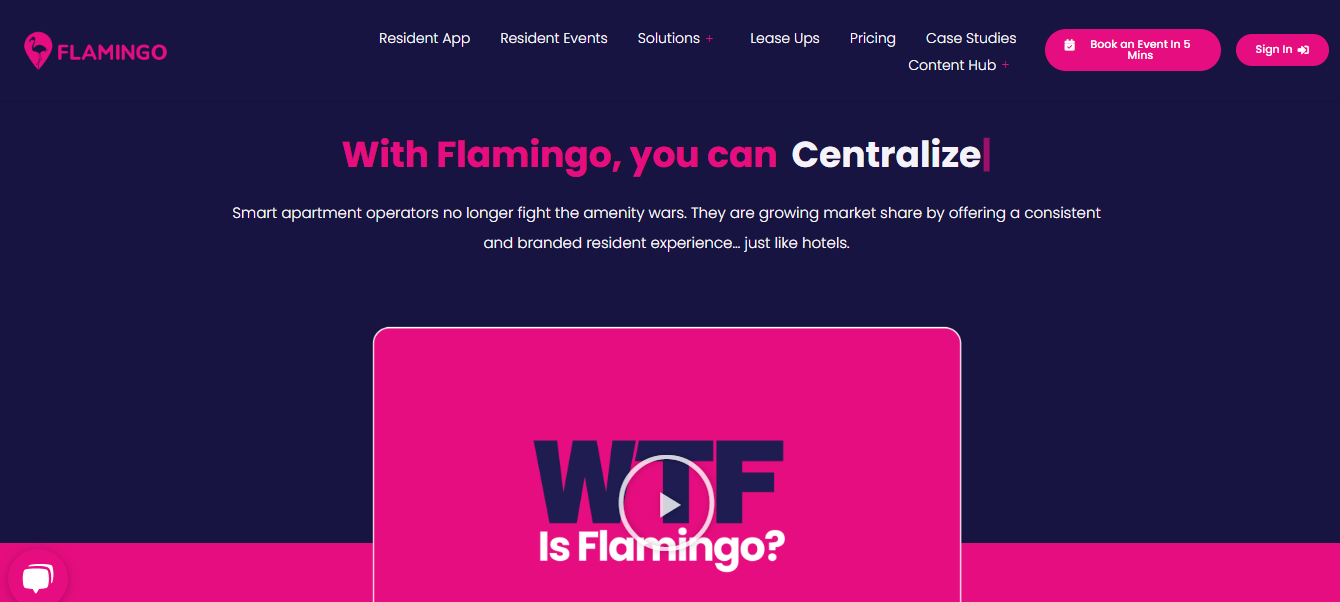 Flamingo is included in the list of multi-family apartments app with more than 400k units employing it as their official residential app. It is a multi-functional app for apartment communities that offers text, email, and messages. By posting polls, you can engage your residents in activities and disseminate new policies via its social feed. Property managers may build a connected and engaged community. Additionally, it provides access to a concierge marketplace modeled after a hotel where locals can quickly obtain services like house cleaning, TV mounting, and more with just a few clicks.
This apartment management app integrates with more than 100 of your current systems to offer a seamless work atmosphere. From property management systems to insurance, communications, surveys, and reviews, residents may access their smart keys directly, stream fitness classes on-demand to any TV, learn everything they need to know about the property from an online, searchable reference and regulations to FAQs to the hours of operation for amenities.
According to Flamingo, 20k+ successful events were held in apartments and gated communities, making it the best apartment app. Residents will have the ability to submit maintenance requests using the app, check for updates, and rate the services done by the technicians.
Real-time monitoring and optimization of the essential numbers Utilizing real-time, simple-to-analyze data on your residents' actions enable your teams to make prompt, informed decisions.
4. Livly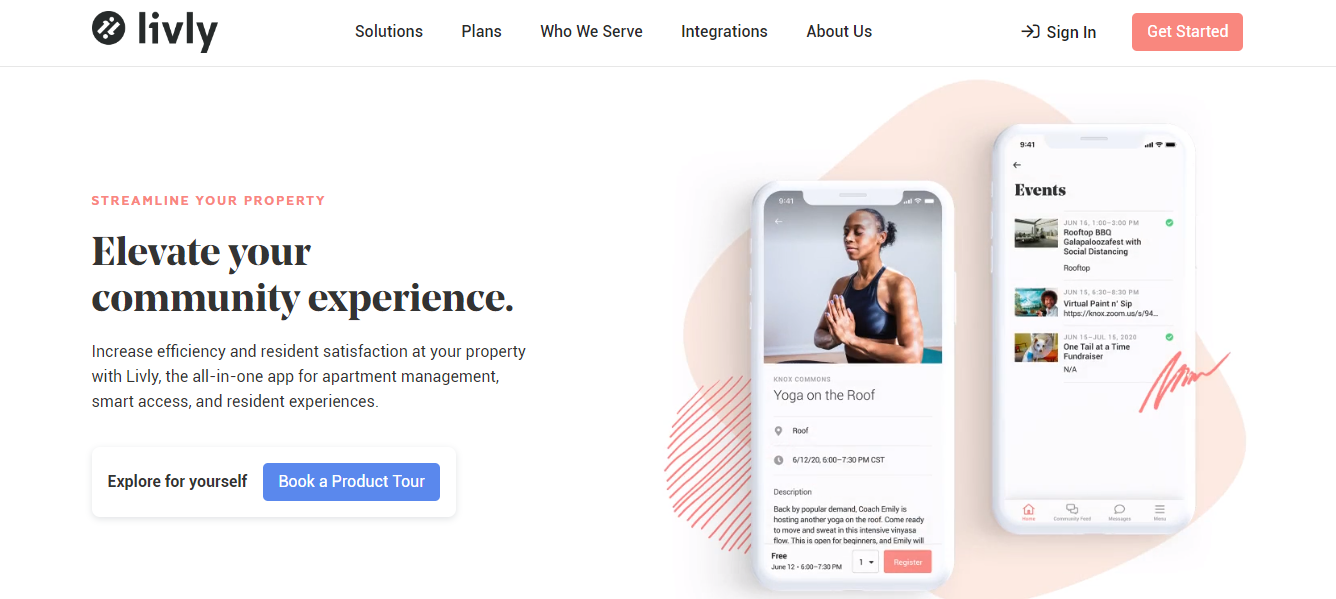 Livly, an all-in-one resident app, is included on the list of the best apartment apps for multi-family due to its variety of services. With its AI-driven technology, efficiency, and engagement may be easily increased.
Examine managed community Wi-Fi, digital keys, smart devices, secure guest access, and more. Complete access control integrations are offered, making life easier for your staff and residents. Using this system, you may avoid resident lockouts, lost keys, and staff time wasted making physical key fobs.
To provide residents with the greatest possible access experience, this apartment maintenance app is teamed with top smart access vendors, including Schlage, SALTO Systems, ASSA ABLOY, and others. It offers every necessary feature or module, from resident onboarding to polling tools and concierge service. To start their new beginning at your apartment or community, it will offer them a seamless move-in experience. Through a single, detailed process, Livly's Resident Onboarder takes care of all the inconveniences associated with moving in.
It went a step further than other apartment community apps to meet resident needs, offering Experiential Management (XPM), where its team would serve as an extension of your staff and manage resident communications on your behalf.
With Livly's Resident Polling function, you can instantly get a resident opinion for anything from upcoming events to property amenities or entertaining trivia questions, which aids property managers in making an informed decision.
5. Adda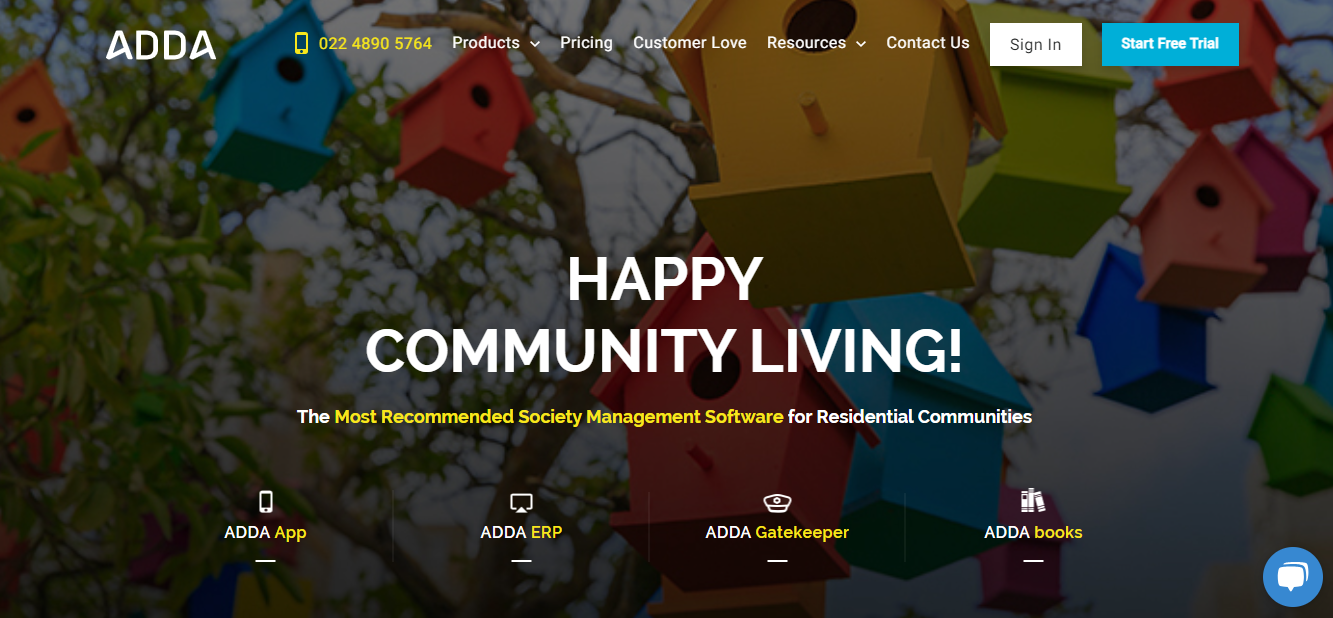 Adda is a complete society administration system that includes a Helpdesk, Billing, Accounting, Communication, Security, and more. It has currently served residents up to 9000+ Housing Society MC Members in India, providing the ultimate convenience in community living. Your tasks will be made simpler by this community app's inclusion of global best practices, automation, and transparency.
ADDA is the comprehensive platform for managing all of your society's demands. It is well-versed in the needs of the housing society, including repairs and upkeep of assets, maintenance collection, resident and MC communication, facility booking, staff tracking, and handling visitors and packages, among other responsibilities.
The deployment of the Visitor Management App - ADDA Gatekeeper at the security gate or front desk allows residents to get immediate notifications about their guests. Residents can regulate who enters the apartment or condominium from anywhere. With the help of this community and apartment management app, you can pre-approve visitors' access to the neighborhood. Receive visitor notifications and validate guests right at your fingertips with a smartphone, all while preventing unwanted visitors. Anyone can utilize the phone number of the person who is most likely to be at home to validate visitor admission if the intercom is down or unavailable.
It offers a private social networking platform that makes connecting with your neighbors and other residents easier. You will be made aware of significant community conversations, ask your neighbors' advice, keep informed about all activities, and you can be sure that your data is protected.
There are some apps on the market, except those for apartment communities, that can be used for community or apartment maintenance, such as Clap Messenger. You can maintain communication with other residents and your neighbors by using its features. To learn more about it, read the details below.
Clap Messenger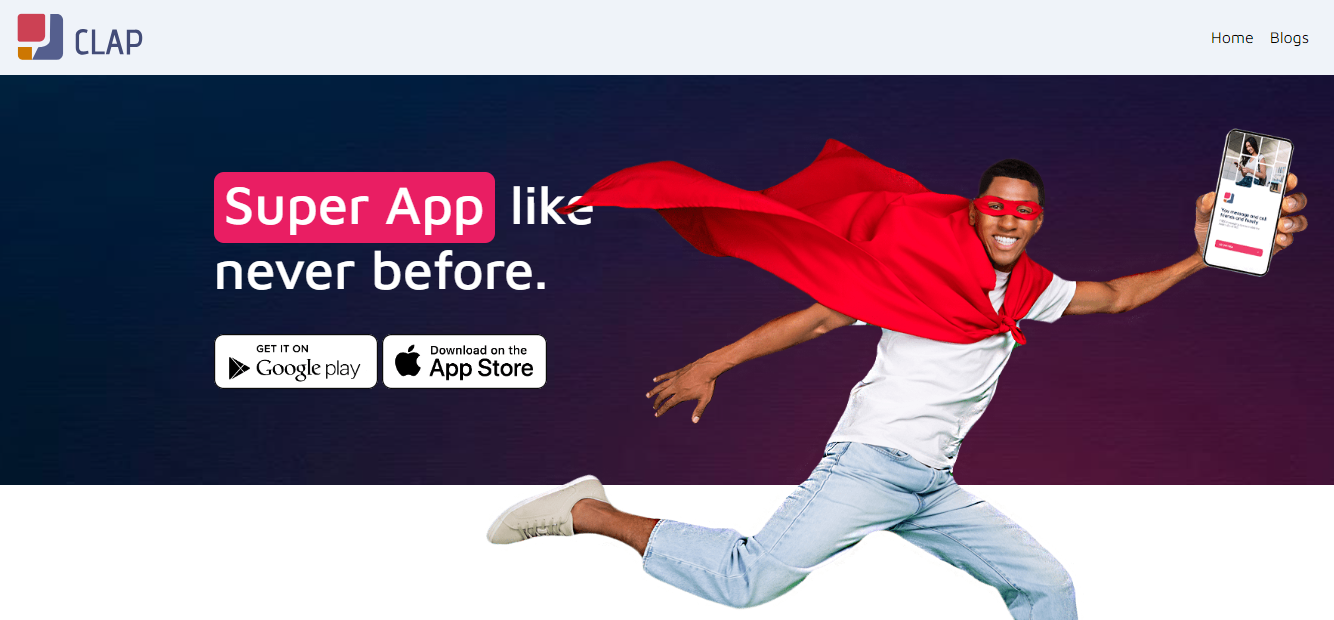 Clap Messenger is a popular Indian super app that makes daily tasks easier and improves social interactions. Clap Messenger may give you the impression that it is just one of the mobile messaging apps based on its name, but it is far more than that. To elaborate, a super app is a mobile or web application that can offer many services like payments, transportation, and other things. In general, there are no requirements for a super app to have a specific app or function; it can include any feature necessary to organize end users' activities.
In contrast to other super apps, Clap Messenger has a module called 'Communities' where you can add members of your apartment or community and start interacting. You may use this module to engage your residents, and it also functions as an alternative to community engagement apps.
Clap Messenger offers an app called Votocrat, a polling app similar to other apartment community apps. You can use it to generate polls and share them with your neighbors and other residents. You may even submit documents or photographs to your polls if you want to provide precise information without relying solely on written content. Therefore, Clap Messenger can be used as an alternative if you think apartment maintenance apps are too complicated.
Conclusion
Residents or communities, property managers, and others will benefit greatly from modern apartment community apps. Nevertheless, it is crucial to pick high-quality solutions that are both efficient and affordable for your tasks. All you need to do is compare the above apps to your demands; if they all suit your needs, which they all will, you can shortlist one of them as your community app.