8 Best Free Chat Applications in 2023: Connect, Collaborate, and Communicate Efficiently
2 months ago

|

By Md. Asloob Alam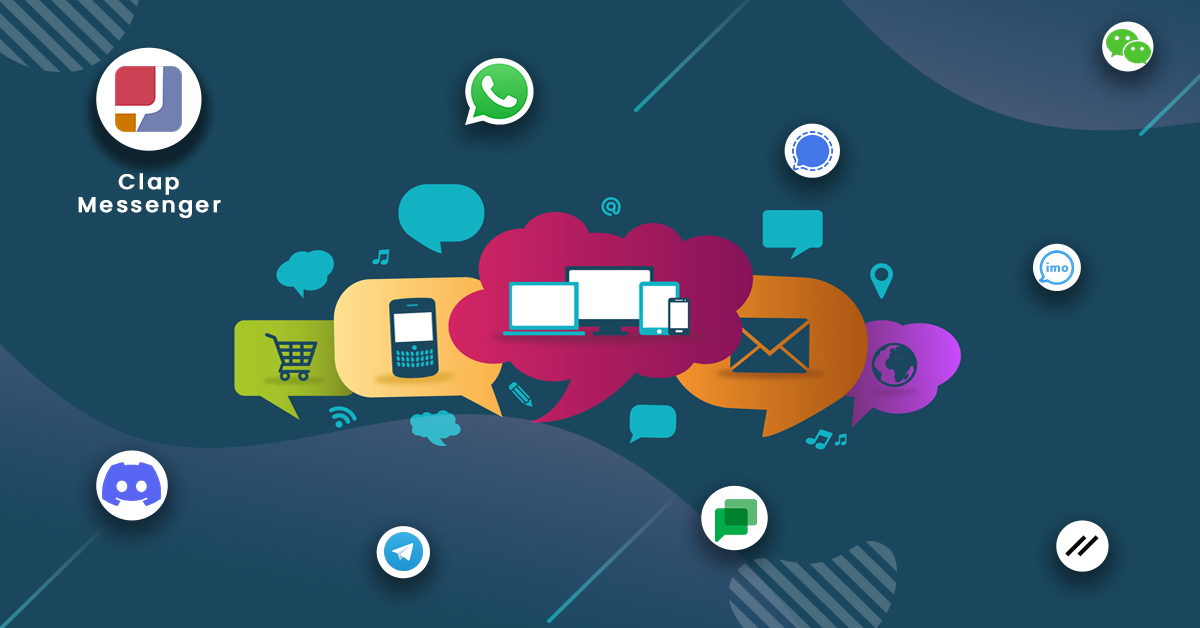 Although the word "free" in best free chat applications may be more alluring to download, its functionality should take prominence. You must seek features that allow you to connect, collaborate, and communicate efficiently rather than going by brand name.
Following are a few of the well-known, extensively used, and free chat software.
Best Free Chat Applications
1. Clap Messenger
Clap Messenger is an Indian Super app. One of the most widely used online chatting apps in India is also primarily focused on messaging, and it employs cutting-edge security measures to protect all forms of communication, including chat, audio/video discussions, password vaults, document scanners, pictures, polls, screen sharing, recording, communities, and more. To be more precise, a few of its distinguishing characteristics include the ones mentioned above.
You may organize your daily activities, avoid installing several apps, focus on your priorities more effectively, and other benefits by downloading super apps like Clap Messenger. All types of communication are encrypted using state-of-the-art security methods. Due to its user-friendly UI and well-designed functionality, a user with little technical knowledge can use this free chat solution seamlessly. Soon, it will also offer services for doing business, shopping, making secure payments, and more.
2. Google Chat
The best instant chat app, with a solid reputation, has been suggested to be Google Chat. It is a free chat application for Android and iOS from Google that offers chatting, group building, and support for Google Drive file sharing.
Google Chat breaks up conversations into rooms so you can chat effectively. It is simpler to follow active threads because chat conversations are organized into threads. It has demonstrated that this app's chat feature is quite helpful for Gmail users in bridging the gap between senders and recipients.
This free chat solution's main benefit is that it allows you to paste a Google Doc link into a document and adjust the permissions so that every user in the room can open it. You may instantly schedule a meeting with any friend by tagging Google Meet with their name. That person will also show, alongside meeting information like the time and date. Following, a video conference appointment with a Google Meet link is created in the calendar. Being a Google product, search is unavoidably an essential element. As you type, results display instantly, and you may choose from some filtering choices, allowing you to communicate efficiently.
3. Discord
Discord is an American VoIP and social chat platform. Users can interact with one another in private conversations or large groups known as "servers" by sending text messages, making video or audio calls, sharing files, etc. A server concludes active voice channels and chat rooms can be accessed using an invitation link. Web browsers, iOS, Android, Windows, macOS, iPadOS, and Linux are all supported by Discord.
This online chat application is well-known for its screen-sharing feature, which enables users to demonstrate their gaming progress to other users. It also brought numerous communities and groups together to engage in lively debate. Employing Discord's capabilities and advised practices you can make your community even more enticing, keeping members interested and entertained.
It provides some of the best audio quality on the market for video and audio conversations, among other features. It is the key selling point here. This feature has proven to be worthwhile because it makes it easy for you to interact with your pals. Some fresh startups and small organizations use it as a tool for enterprise communication.
4. WeChat
In China, WeChat is considered one of the top applications. There are more methods to connect and communicate as it advances. Popular features of this free chat software include social media, mobile payments, instant messaging, audio messages, walkie-talkies, and stickers.
Users regarded sending voice notes as convenient, logical, and personal for completing daily activities because the native mobile keyboard was challenging to use when entering Chinese characters. At the time, voice messaging gave mobile messaging apps a run for their money.
You may browse WeChat's vast music collection and incorporate song clips into the videos you make and share through Moments. You can communicate with your friends while expressing the most exciting events from your life using WeChat's "Moments" function. Users can post text, images, and brief user-shot clips. Contacts in the contact list can rank and comment on the material.
WeChat is used by worldwide users, which has made it even simpler for users to communicate. It is used for chat message translation also. For instance, when you get a text message in a foreign language on WeChat, long-press the message and choose "translate" to have it translated into your native tongue.
Similarly, you may open any image in your chat that has Chinese text and choose "Translate Image Text" by long-pressing the image. Your image shall be consequently translated for you after being automatically checked for Chinese content.
5. IMO
Imo is one of the leading free communication apps. It makes it possible to send free stickers along with videos, documents, PDFs, and other types of information. 20-person encrypted group audio and video conferences are supported. According to the program's author, there are more than 200 million users of the service, and more than 50 million messages are sent and received every day.
With this free audio and video call software, users can send voice and video messages. The most effective user interface is provided, making voice calling quick and easy. This app works on desktop computers as well as mobile devices.
Alongside IMO's audio and video calling features, you can have steady and cost-free conversations with your friends and family. No matter if they are in another country or not, it continues to be the option that you can live with. Unlike other free chat platforms, you may personalize your profile by including a music widget, background, motto, and bio, as well as by setting it up to showcase your personality.
6. WhatsApp
With its user base spread around the globe, WhatsApp can claim the top spot in the league of popular free chat applications. There are community, video, and audio chat, conference calls, and other communication services available. Group chat and real-time video conferencing are both compatible with end-to-end encryption.
WhatsApp has become the communication program that people use the most all across the world. The businesses migrated to WhatsApp's business application software shortly after it launched for their commercial requirements. WhatsApp is available as a desktop application for Windows and Mac computers, or you may use WhatsApp Web in any web browser.
With more than 5 billion downloads via the Google Play Store as well as 2 billion active monthly users, WhatsApp has advanced to the point that it has become the global standard for cross-platform messaging after Meta acquired it in 2014 for a whopping price.
Other than chatting, and audio/ video calls, it also offers file exchange, documents, audio files, stickers, full-resolution images, and video clips to animated GIFs. Users seeking free poll apps can use WhatsApp since it offers polls.
7. Wickr
One of the first to use end-to-end encryption was Wickr, a free messaging application introduced in 2012 through Silicon Valley-based privacy and security professionals. Automatic communication encryption is implemented, and the company regularly conducts security assessments.
The Wickr Me app allows users to set an expiration time for their encrypted chats, which was first made available for iOS and then for Android. In December 2014, Wickr unveiled a desktop version of its encrypted messaging system. Along with the capability to sync messages across many devices, including phones, tablets, and PCs, Wickr also developed desktop software.
In contrast to other online free chat apps, it does not request contact information during the signup process, which might include an email address or a phone number, therefore no personal data is gathered and the software does not have access to it.
8. Signal
Signal established its strong position in the best free chat applications league, which has millions of users throughout the world. It is a multi-platform, end-to-end encrypted messaging service primarily focused on voice and text communication.
You can only use one "mobile device" at a time when using Signal, but you can connect up to five other devices, such as tablets or PCs. This indicates that you will only ever have one primary iPhone or Android smartphone linked to your account at any given time. It offers chat, audio/ video calls, voice notes, videos, photos, and other files that can all be sent via the instant messaging feature. In addition, You can transmit a one-time viewable image, a Note to Self, and disappear communications.
When compared to other free chat apps, Signal profited the most, and users transitioned to it from WhatsApp posting its privacy policy announcement without any alternate thought. The Signal is an instant messaging app for users looking for a secure chat app.
Conclusion
All users, regardless of age, prefer messaging apps that meet their needs. At the moment, a few free chat applications are upgrading their features to make them more intuitive and designed to deliver an appealing experience. All chat applications offer identical chatting features more or less, only the security they offer differs. However, when you consider the needs of the new-age user, they need an app that can comply with all their requirements, such as an all-in-one app/Super app like Clap Messenger.