7 Popular Online Chatting Apps in India for Connecting and Communicating
3 months ago

|

By Md. Asloob Alam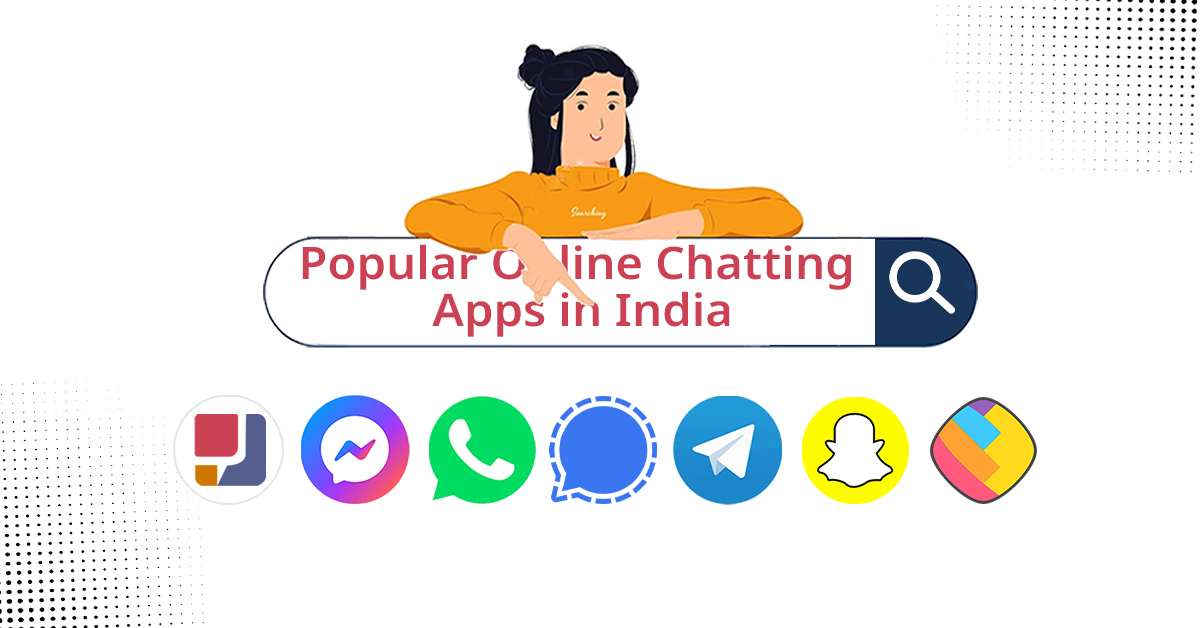 I'm sure you use one of the popular online chatting apps in India to connect and communicate with your family, friends, coworkers, and others. But what if I will tell you that after reading this blog post, you might switch to a better chat app? So brace yourself to look through the top applications to narrow your choices to the finest Indian chatting app.
A few of the most popular and top Indian online chatting apps are listed below. Read the following to learn more about the apps.
Best Online Chatting Apps in India
1. Clap Messenger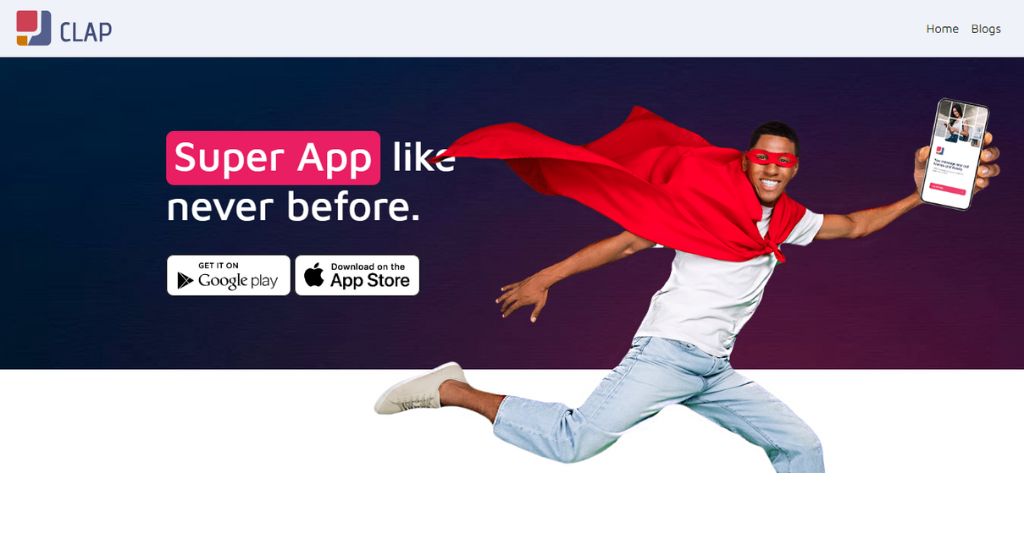 Clap Messenger, one of the top online chat apps in India, is one of the best messaging-focused super apps. Clap Messenger can surpass all other chat programs thanks to its feature-rich capabilities.
To be explicit, a mobile or web application known as a super app combines several services onto a single platform. Clap Messenger includes all the features you require for managing your activities such as polls, chat, audio/video calls, album sharing, password storage, doc scanners, recording, etc. For example, if you're looking for free poll apps, there's no need to download another one that consumes your data and memory on your phone, a super app like Clap Messenger adheres to all your requirements.
A super app is a mobile or web application that combines multiple services into one platform. For instance, if you are looking for free poll apps, you don't have to download another app consuming your data and mobile's memory. A super app like Clap Messenger offers all the required features that sort your activities like polls, chat, audio/ video calls, album sharing, password repository, doc scanner, recording, and so on.
In addition, unlike other messaging systems, it enables you to create communities where members can stay active by discovering and engaging in discussions about concerns that are important to them, and where community managers may inform members of critical developments by publishing announcements.
World-class security techniques are employed to encrypt all forms of communication. A user with little technical understanding can use it effortlessly due to its user-friendly interface and well-designed features. It will soon have facilities for purchasing flight tickets, shopping, secure payments, etc.
2. Messenger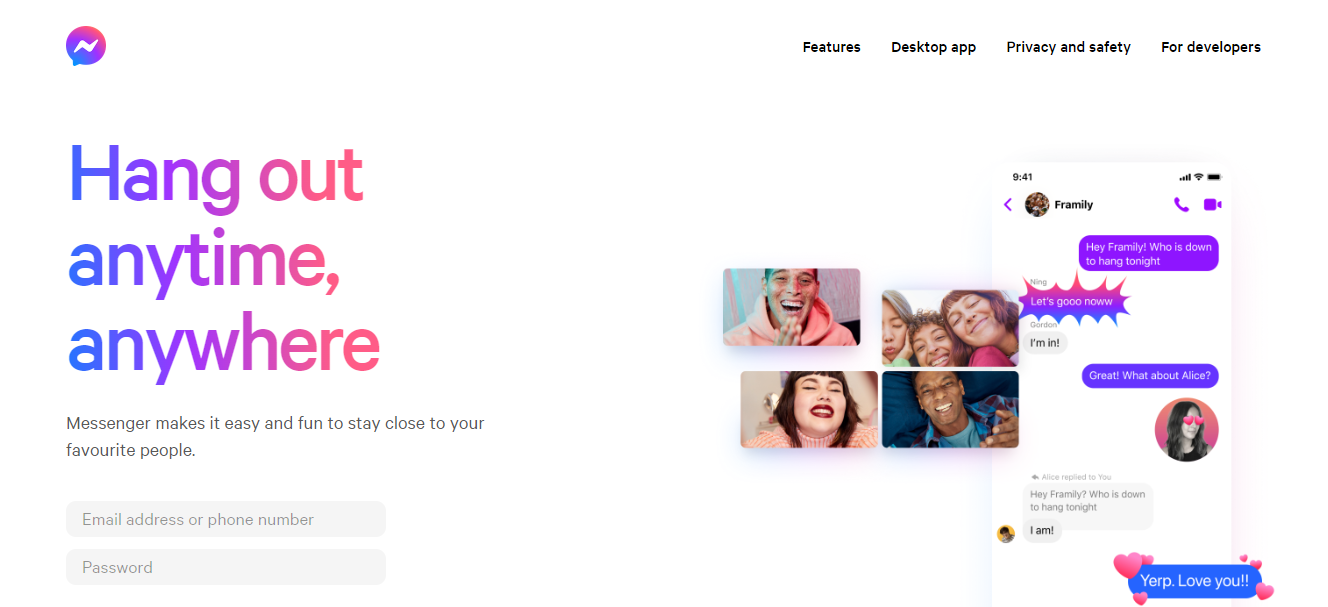 Messenger, a proprietary platform and one of the top free online chatting apps in India, was developed by the American business Meta Platforms. Being a standalone iOS and Android app, Facebook Messenger was first developed in 2008 and redesigned with its messaging service in 2010. With optional end-to-end encryption, the standalone app permits the use of multiple accounts and discussions.
Unlike other messaging platforms, users should have an account on Facebook to access Messenger. Using this free messaging app, users can send messages, send and receive files, photographs, videos, stickers, music, and videos, as well as, respond to messages from other users and communicate with bots. The service additionally supports voice and video calls. The standalone apps allow for the use of numerous accounts, gameplay, and optional end-to-end encryption in communications.
It screens communications that could be hazardous so unethical users don't get to your inbox. Safety warnings may appear in your chats to assist you in identifying possible fraudsters or imposters, and Messenger constantly finds and blocks millions of fake Facebook accounts.
Messenger constantly develops new safeguards to keep you safe, and features like multi-block give you more control over your experience. You control who calls or texts you, who is placed on your "Chats" list, and who is blocked entirely.
3. WhatsApp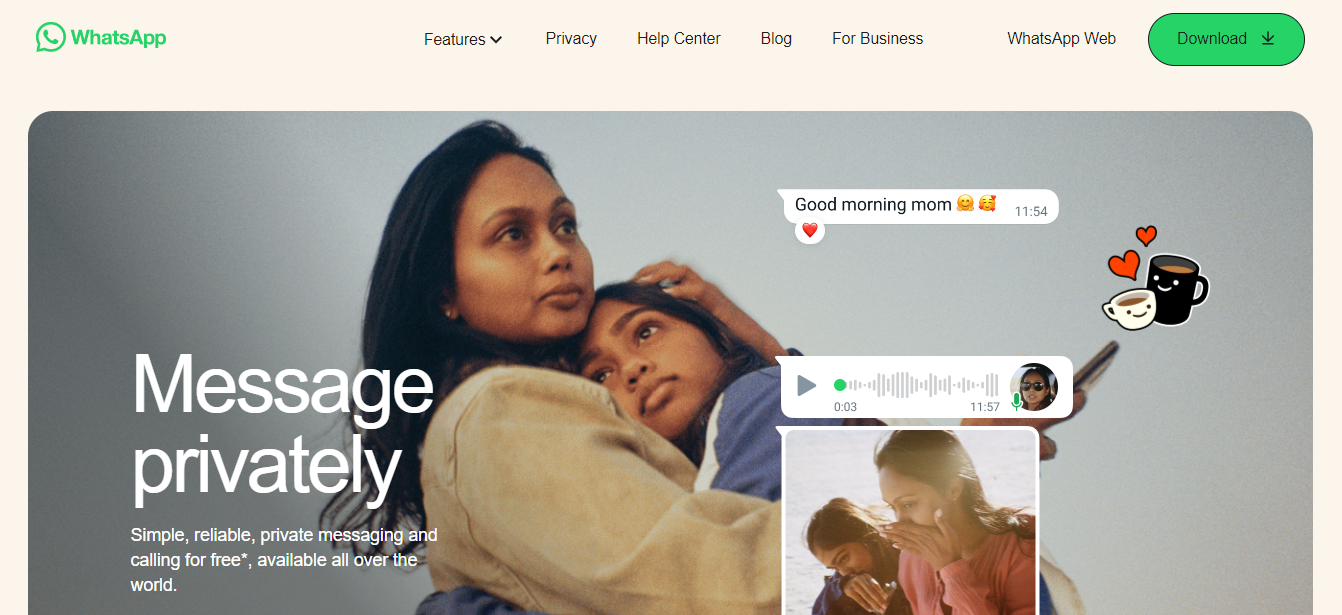 WhatsApp is the following app listed among popular chat apps in India from Meta. Up to two billion people in over 180 nations around the world. You can smoothly stay in touch with your friends and family because it is simple, trustworthy, and safe. WhatsApp is free to use and operates on desktop, mobile, and sluggish connections. In India, WhatsApp is synonymous with messaging, and as a result, users began using SMS services to check their default messages from governmental agencies, or OTPs.
It is a free chat app that enables users to share images, documents, user locations, voice and video conversations, text, voice, and video messages, as well as other content. Additionally, it enables you to establish a community.
Due to its privacy policy, announced in January 2021, other messengers saw a spike in users signing up for their platforms. WhatsApp quickly corrected its statement, stating that it only applies to specific businesses. WhatsApp was able to reclaim its grandeur at last.
Your calls and communications are protected with end-to-end encryption. Nobody between you and the receiver, not even WhatsApp is empowered to read or listen to them.
In contrast to other mobile messaging apps, WhatsApp provides a separate platform where business users can connect easily. It has up to 2 billion users worldwide, where you can engage audiences, speed up sales, and drive superior customer service outcomes.
4. Signal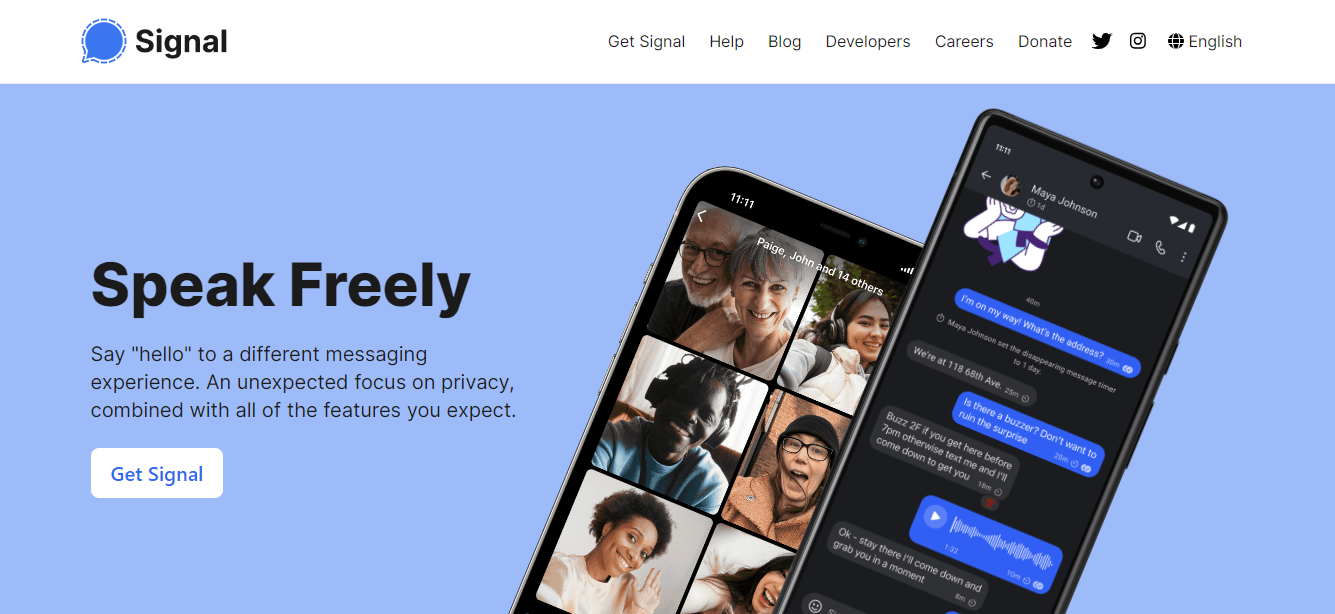 According to Signal, millions of users use it daily for quick communication worldwide. Users of this free chatting app may communicate in high definition, take part in HD voice and video chats, and discover a growing number of additional features that keep them connected. Signal says that you can concentrate on sharing essential moments with the people who matter to you since Signal's cutting-edge privacy-preserving technology is always working.
Signal does not include ads, affiliate marketers, or intrusive tracking, unlike other Indian online chat apps. So, have fun when you're among the people that matter to you. It is regarded as the top instant messaging, audio, and video call encryption provider. Text, voice notes, photos, videos, and other items can all be sent via the instant messaging feature.
The program has a centralized computing architecture and is cross-platform. The server, client, and desktop applications are distributed under the AGPL-3.0-only license. Although it can function without them, the official Android app generally needs the restricted Google Play Services. Additionally, desktop software for Windows, macOS, and Linux is made available, as well as iOS. The desktop registration process requires an iOS or Android device.
5. Telegram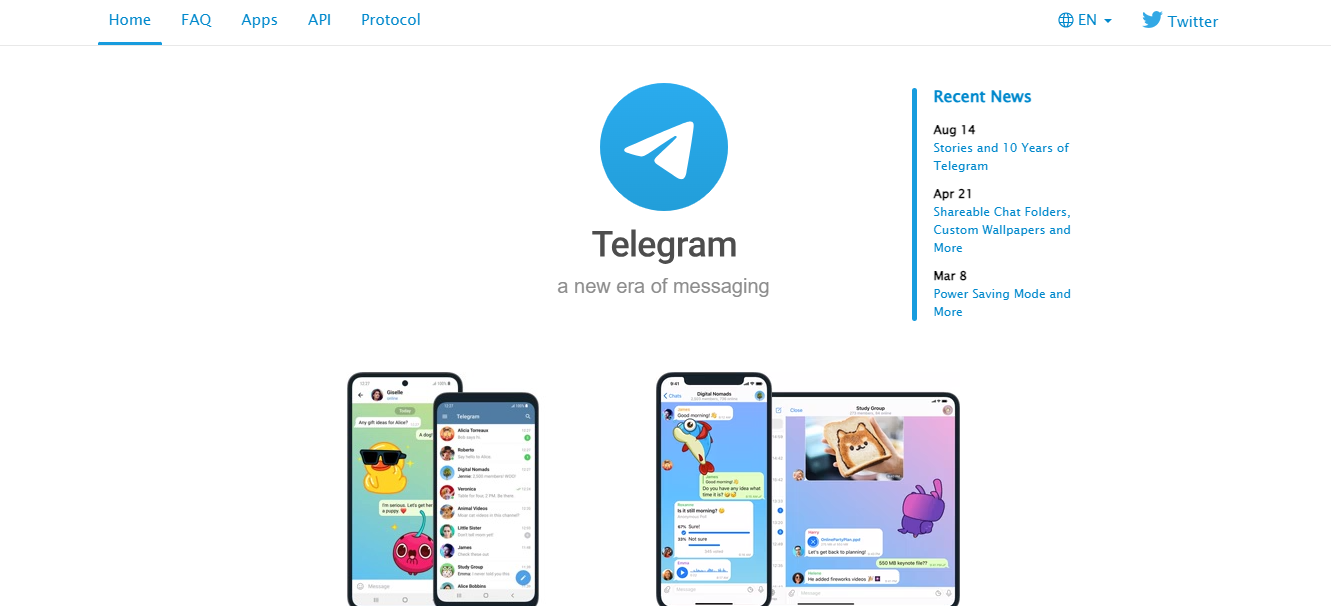 Telegram is amongst the widely used online chatting apps in India that support voice and video calls alongside file sharing. Nikolai and Pavel Durov launched the Russian social networking site VK in 2013. Its first headquarters were in St. Petersburg, but it later relocated to Dubai after making stops in London, Berlin, and Singapore. As a result of its popularity and 2 GB file restriction for exchange, it swiftly surpassed other Indian chat apps.
It is a centralized, cloud-based, freemium instant messaging service available anywhere. Additionally, the program offers extra capabilities including video calling, VoIP, file sharing, and end-to-end encrypted chats, also known as secret chats. Due to Telegram's ongoing competition with alternate chatting and texting apps like WhatsApp, its devoted user base has split into two rival camps, such as Telegram vs. WhatsApp.
The Telegram development team created this free chatting app as a secure messaging system. The chat protocol, API, and source code of Telegram, according to its developers, are all open for anybody to review, test, and validate for security. This tactic of demonstrating the effectiveness of their security standards attracted a large number of people from throughout the world.
6. Snapchat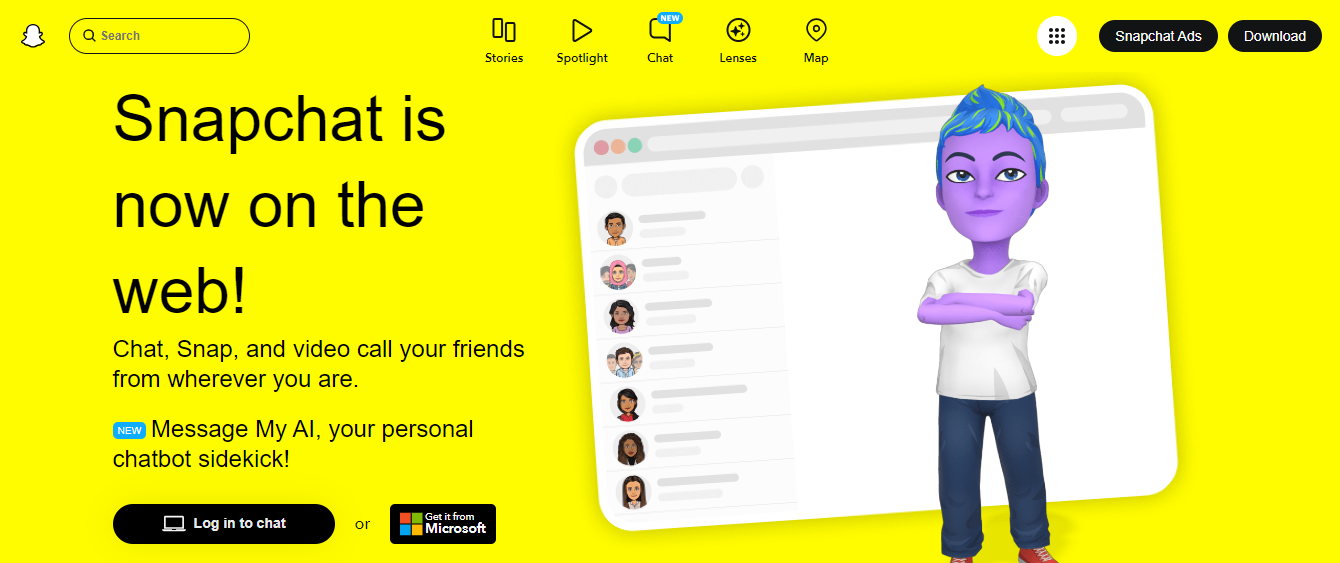 Snap Inc., originally known as Snapchat Inc., created Snapchat, a multi-media instant messaging service and software, in the United States. Due to its key selling points, Snapchat gained popularity swiftly, giving some millennials in India the impression that it was an Indian chatting app. One of the main characteristics of Snapchat is that pictures and messages are typically only viewable by their recipients for a short while before they are deleted.
The app's original focus was peer-to-peer photo sharing, but it has now expanded to include users' "Stories," which are 24-hour timelines of content, as well as "Discover," which enables companies to provide quick, ad-supported content. Users can keep images in a "my eyes only" password-protected section as well.
Users have the option to apply to become Snap Stars to provide some of the best and most fascinating material to Snapchat. Snap Stars offers their viewers unmatched opportunities to explore a wide range of interests, including the performing arts, fashion, news, video games, music, and more thanks to their unique perspectives. One of the best chat apps in India, Snapchat has earned the title of "Snap Star" by allowing qualifying users to have their material shown on the platform.
To warn users about phishing, malware, and other potentially hazardous websites, Snapchat uses information from Google's Safe Browsing service.
7. ShareChat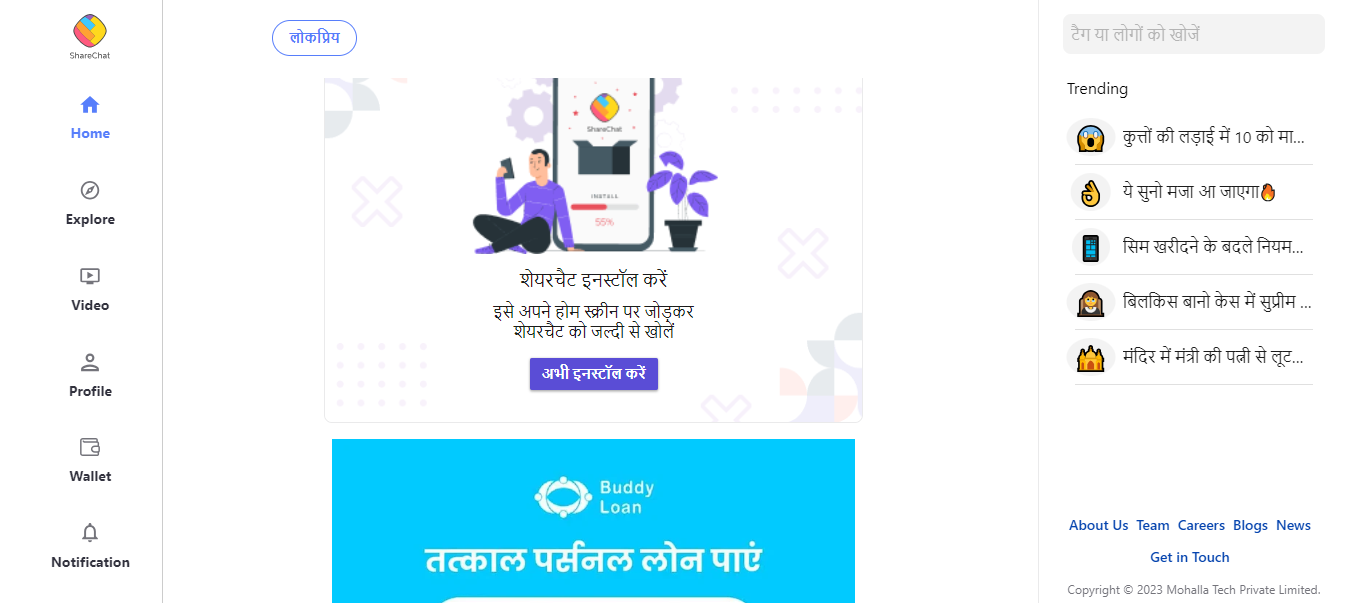 ShareChat is an Indian free chat app cum social networking service platform for India that is run by the Bangalore-based company Mohalla Tech. Ankush Sachdeva, Bhanu Pratap Singh, and Farid Ahsan founded it on January 8th, 2015. The ShareChat software is used monthly in 15 different Indian languages by more than 350 million people. After the government outlawed TikTok, Mohalla Tech Pvt. Ltd. released ShareChat in June 2020, and it quickly rose to the top Indian online chatting apps list.
The co-founders became aware that certain people require an appropriate platform for their communication. As a result, the local audience can choose the language in which they want to read, listen to, or view a particular bit of content.
These locals did not have a larger audience before ShareChat, and their ideas and statements were not vocal. Three IITians came up with the concept of ShareChat, a platform that allows these people to voice their opinions. They took advantage of widespread recognition to turn it into a multimillion-dollar startup.
It is an Indian free chat app with Facebook-like features that enables users to exchange videos, written postings, audio files, etc. It is the ideal fusion of TikTok, Facebook, WhatsApp, and some other social media and messaging platforms.
Additionally, ShareChat's algorithms find members who share interests and facilitate their communication through private chats. An important feature of the app is that it enables users to share content on other instant messaging apps like WhatsApp. Through voice chat rooms, photo and video posts, status updates, microblogging, blogging, and direct messaging in 15 Indian languages, it gives its users a variety of ways to express themselves.
Other online chatting apps in India are Jio Chat, Hike, Indian Messenger App, Namasthe Bharat, and so on which have a significant user base and are capable of giving competition to every international chatting app.
Conclusion
I'd like to believe that now that you are acquainted with some of the popular online chatting apps in India for connecting and communicating, you can narrow down your choices for a better chatting application. If you may consider it, I'd advise you to go with Clap Messenger. It includes a variety of functions that help you organize your daily activities in addition to using it as your chatting app. However, Clap Messenger is the preferred app among millennials, and given its capabilities, it is likely that most users will switch to it shortly, irrespective of the age group.