Telegram vs WhatsApp: Which Messaging App is Right for You?
3 months ago

|

By Md. Asloob Alam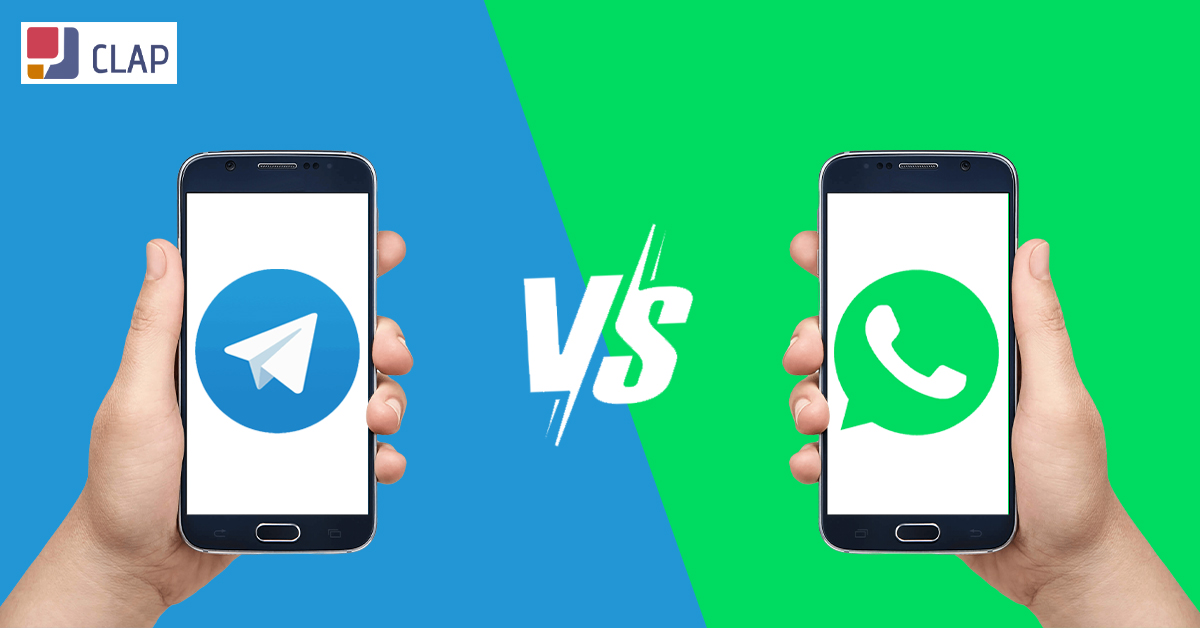 Telegram vs WhatsApp is a persistent debate that will likely continue for some more time. But remember too many apps will disrupt your data and storage. So, why don't you decide on one messaging app or find the best that excels over the aforementioned apps?
Preceding is an evaluation of Telegram and WhatsApp, which may aid in your decision-making.
Table of Contents
Telegram vs WhatsApp: Introduction
Telegram
Brothers Nikolai and Pavel Durov established Telegram in 2013. The two had previously started the Russian social network VK, which they discontinued in 2014 under the pretext that the government had taken over management of it. Telegram's initial release date started with iOS on 14 August 2013 while the first day for Android was October 20, 2013.
Telegram Messenger is a globally accessible freemium, encrypted, cloud-based, and centralized instant messaging (IM) service. It is registered as a company in the British Virgin Islands and as an LLC in Dubai. It cites the necessity to "shelter the team from unnecessary influence" and safeguard users from governmental data requests as reasons why it does not reveal where it rents offices or which legal companies it employs to rent them. Telegram's data is split among five data centers located around the world, with the operations center in Dubai, United Arab Emirates.
Whatsapp
WhatsApp initial release date starts with iOS in November 2009. Support for BlackBerry smartphones was added in January 2010, followed by support for Symbian OS in May 2010 and Android OS in August 2010. Jan Koum and Brian Acton founded it.
It is a free and open-source voice-over-IP and centralized instant messaging service that is accessible from anywhere in the world. The US-based IT business Meta is the owner. Users can communicate through voice and text messaging, audio calls, and video calls in addition to exchanging documents, photos, user locations, and other kinds of content.
WhatsApp Messenger is the market leader, according to recognition. It was recognized for having an easy-to-use user interface.
Facebook acquired WhatsApp in February 2014 for an astounding US $ 19 billion, which was a sizable sum when compared to its prior acquisitions and was largely regarded as a significant acquisition. It also assisted Facebook's expansion.
Telegram vs WhatsApp: Security
Telegram
Based on the MTProto protocol, which was developed using tried-and-true methods, Telegram offers security that is consistent with fast delivery and dependability across unstable connections.
There are two safe encryption layers in it. In Cloud conversations (private and group conversations), server-client encryption is employed; moreover, client-client encryption is used in Secret Chats. Whether it is text, media, or files, all data is encrypted in the same way.
End-to-end encryption, no data retention on the servers, support for self-destructing messages, and the prohibition of forwarding are all features of Telegram's exclusive secret chats. Additionally, they are not stored in the Telegram cloud and are accessible only on the original device, making Telegram one of the most secure mobile messaging apps available.
WhatsApp
WhatsApp, created a messaging and calling experience with top-notch security, created cutting-edge tools to give you control, and is available to help you when you need it. WhatsApp says that most spam and scam accounts are discovered and eliminated by them before they can contact you or before anyone complains to them.
In addition to offering two-step authentication, WhatsApp claims that users' private conversations are secured by default end-to-end encryption while also claiming it is always developing new features to provide users more privacy and control over their messages.
WhatsApp users have access to a security code verification function, which helps to confirm they are communicating with the intended recipient, unlike users of other encrypted apps.
Telegram vs WhatsApp: Bots
Telegram
Telegram bots are small applications that are contained within the messaging app and may be created to assist any kind of function or task. Not all of them, though, offer security and safety. They might gather user information, such as conversation history and private data.
All communication formats, including text, files, places, stickers, and voice messages, can be sent to bots by users. However, Telegram bots provide a variety of additional capabilities for creating adaptable interfaces that are customized to the demands of the clients.
WhatsApp
WhatsApp has announced support for bots in its app with the introduction of the Business API. In 2018, WhatsApp first made available its Business API, which enables companies to create and use chatbots to interact and communicate with their customers. Please be advised that this functionality can only be developed or deployed by users with business profiles.
Telegram vs WhatsApp: Unique Features
Telegram
One of the fundamental features offered is chats, along with group conversations and channels. Up to 200,000 people can join one of your Telegram groups. Users are kept interested via polls, hashtags, bots, quizzes, and other group-specific features.
Unlike Telegram alternatives, it has self-destructing text function this app is just one of many unusual characteristics. Messages sent by users can be edited, and they can take advantage of features like uncompressed file sharing and message scheduling.
WhatsApp
WhatsApp users are that they can use the Google Drive link if their file size is larger than a predetermined threshold.
You can use WhatsApp to make audio/video conversations with up to 8 people, send video messages, establish group chats with up to 256 individuals, mute or customize notifications, and more.
A new function called "Community" has been added to WhatsApp. Except for Clap Messenger, the majority of WhatsApp alternatives have this feature. Users can establish and unite related groups under a single umbrella using WhatsApp communities. Community members may remain engaged by exploring and conversing in groups that matter to them, and community administrators can reach members with essential changes by issuing announcements. Members can easily set up smaller discussion groups to discuss topics that are important to them and receive updates broadcast to the broader community. Phone numbers now have more privacy thanks to community announcement organizations.
Telegram vs WhatsApp: Devices
Telegram
Users of Telegram can simultaneously access their accounts from numerous devices. Users must enter their phone number as their login information, and your cloud chats will sync right away. If your device loses connection, you might not be able to use Telegram web online or on any of your other devices.
WhatsApp
By connecting WhatsApp to your main phone, you can use it as WhatsApp Web on desktop computers, Android tablets, companion phones, and other devices. It is possible to use four linked devices at once.
End-to-end encryption ensures the same degree of privacy and security that WhatsApp users have come to expect from each paired device while it connects to WhatsApp independently.
Device access is the major difference between Telegram and WhatsApp.
Telegram vs WhatsApp: Storage
Telegram
Users of Telegram are believed to have free access to a limitless amount of storage. However, each file is limited to 2 GB. The main reason it has drawn people in is because it offers Unlimited Storage.
Text messages, files, and other user activities will all be stored on the cloud. Users can view, access, and download their data using any device by logging in.
WhatsApp
iOS users who use WhatsApp have their conversations saved in iCloud, which offers a limited 5GB of free storage. On the other hand, Google Drive offers unrestricted storage space and is where WhatsApp's Android app users' chat backups are saved.
WhatsApp users find it difficult to use because of the size restrictions placed on video, image, and document files. However, as mentioned above, WhatsApp users always have the option to use Google links to share huge files with their recipients.
Telegram vs WhatsApp: Groups
Telegram
Telegram groups are incredibly effective communication tools and can each have up to 200,000 members. Telegram offers two options Groups and Channels. Telegram provides all the required features comparable to other free messaging services. Your group receives a brief link that is made public. Anyone can join and read the group's whole chat history in this way.
Channels enable the spread of communications to large audiences. There is no cap on the number of subscribers a channel can have. Whenever you write in a channel, the message is signed with the name and picture of the channel rather than your name and picture. Each message sent in a channel has a view counter that changes whenever it is read, including forwarded copies.
WhatsApp
WhatsApp can allow up to 256 members to join the group. As an admin, you can limit other group members' access and change the group into a notification group with only a few clicks.
A participant can join a group in numerous ways:
Group Invitation Link.
Contributed by another group member.
QR Code.
Community group directory.
You can always find alternatives in the market if you want to stop using Telegram and WhatsApp or are getting tired of them. However, Clap Messenger should be checked out if you're looking for a messaging application that can outperform the aforementioned ones in terms of features.
Clap Messenger
Clap Messenger is one of the most popular super apps that focuses on communication. All forms of communication are secured by their world-class security protocols, which include chat, audio/video calls, photos, polls, communities, document scanners, recording, screen sharing, password repositories, and more.
It organizes all of your daily activities and encourages you to strike a balance between your personal and professional lives. Additionally, it will soon have facilities for purchasing tickets for flights, shopping, secure payments, etc.
Conclusion
With over 700 million active monthly users and a ranking among the top 10 most downloaded apps globally, Telegram is recognized for enabling file sharing up to 2GB in size that is stored in the cloud and is accessible from a variety of devices.
WhatsApp, is one of the most popular mobile communication apps worldwide, with over 2.24 billion monthly users. WhatsApp is currently ranked as the eighth most downloaded app overall in the Android Google Play Store.
Putting aside the debate between Telegram and WhatsApp, I would like to use Clap Messenger, despite how many users are signed up on the above apps. Because it was developed to meet the needs of the modern era, it is a Super app that is superior to any communication app currently available on the market.