Top 10 Apps like Telegram for Android and IOs [2023]
2 months ago

|

By Md. Asloob Alam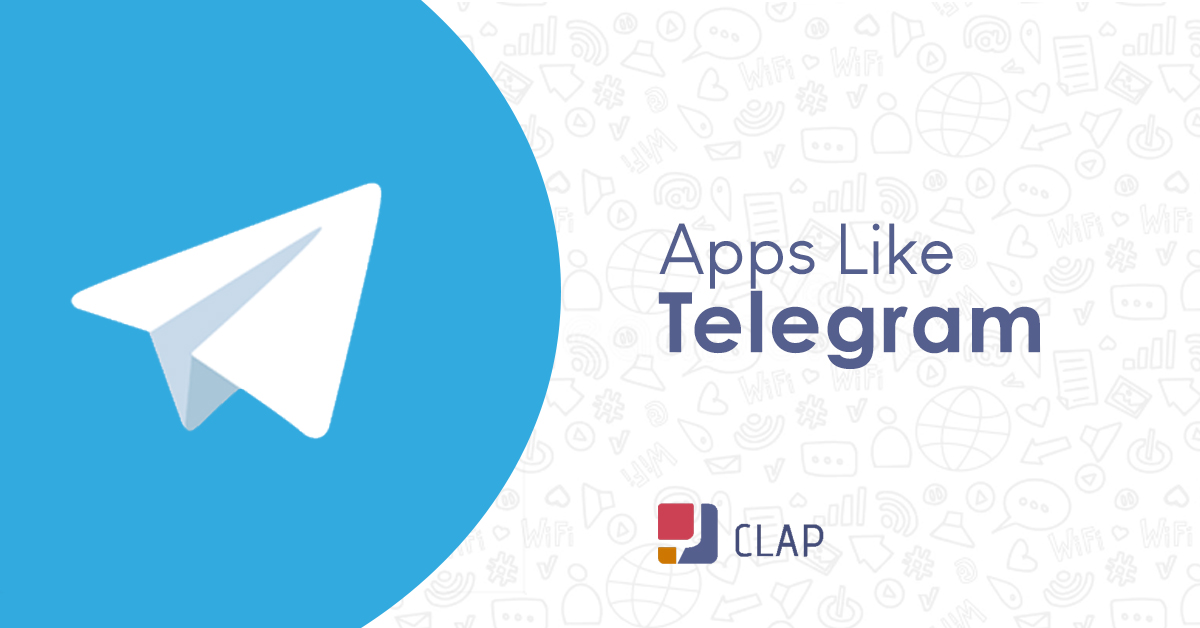 Do you want to download apps like Telegram? I accept that it is a good app, but the preceding material may introduce you to the best instant messaging apps that may compete with Telegram.
Here are some of the most significant Telegram alternatives that will draw you away from Telegram.
Best Telegram Alternatives
1. Clap Messenger
Clap Messenger is one of the popular online chatting apps in India. To reiterate, it is a Super app that focuses on communication. It leverages cutting-edge security mechanisms to safeguard all types of communication, including chat, audio/video talks, password vaults, document scanners, images, polls, screen sharing, recording, communities, and others. To be more specific, some of its unique features include the ones described above.
Clap Messenger is better than Telegram because it helps you manage your routine, prevent the installation of several apps, focus more effectively on your priorities, and gain other advantages. All forms of communication are encrypted using cutting-edge security techniques. It is a user-friendly program that welcomes all users, regardless of technical knowledge. Soon, it will also provide services for conducting business, shopping, making safe payments, and other activities.
2. Threema
With a unique Threema ID instead of a phone number or email address, Threema is a premium open-source end-to-end encrypted secure messaging service that enables you to use the software anonymously. Users can authenticate other users and add contacts via scannable QR codes.
The application developers further assert that when a communication is transmitted, it instantly gets deleted from their servers. Threema joined the list of secure mobile messaging apps, given that the emphasis on security and privacy protection goes beyond chats. Many new distinctive features have been added, as a result, such as Threema calls, profile images, and the desktop app/web client. Additionally, the least amount of data will be produced and stored on servers. Groups and contact lists are managed only on the users' devices, not the server, and no log files will be created, nor is any personally identifying information obtained.
Private Chats, a feature of this instant messaging app, allows users to password-protect particular chats, preventing hackers from listening to your classified talks.
3. Tox
Tox is an intuitive chat software that lets you communicate privately with family and friends. This messaging application is free and has no ads for life, unlike other well-known services that charge for features.
Tox asserts that those who used it developed it. People are tired of the current options that watch us, restrict us, spy on us, and prevent us from communicating seamlessly. Just easy to understand and a safe messaging platform that is simple to use.
Contrary to other Telegram alternatives, the Tox network is developed by its users rather than central servers that may be raided, shut down, or required to turn up data. Tox uses open-source libraries to encrypt anything you do with it. Your chat partners are the only ones who can see what you're saying.
4. Line
Line is a free messaging application for instant chatting on electronic devices such as phones, tablets, and personal computers. Users of Line can send texts, photographs, videos, and audio for free, in addition to free VoIP calls and video conferences.
With LINE, you can have as many extended phone conversations with your loved ones as you'd want. Free international voice and video calls are additional offers. You can share amusing news and information and make new friends who share your interests.
Line is one of the best telegram alternatives that offer a variety of services, including a digital wallet named Line Pay, a stream of news named LINE Today, video on demand named Line TV, and the distribution of digital comics under the names Line Manga and Line Webtoon.
5. WeChat
WeChat is the Chinese instant messaging, mobile payment, and social media app developed by Tencent? Since its release on the market in 2011, it has expanded to become the biggest independent mobile app in the world, with over one billion monthly active users.
WeChat's features include text messaging, hold-to-talk voice messaging, video games, photo and video sharing, broadcast messaging, location sharing, video calls and conferencing, hold-to-talk voice messaging, and more.
WeChat has some capabilities for randomly contacting people if wanted (and if they are open to it), as well as the ability to share contacts with people around via Bluetooth? Additionally, it can be integrated with other kinds of social media like Facebook. Nevertheless, filters, captions, and automatic translation services are available to enhance photographs.
In contrast to Telegram competitors, WeChat lets you sign up using your Facebook account. You are still required to submit and validate your mobile number after you have verified your Facebook account. But after you join up using Facebook, you may quickly connect through your WeChat account using your Facebook account rather than by entering a password.
Through this super app, you may chat without restriction, whether you want to exchange messages or share photographs and videos. WeChat allows you to instantly connect with the people you care about wherever you are.
6. Viber
Viber is an instant messaging software owned by the Japanese multinational firm Rakuten. In addition to instant messaging, Viber Out provides premium international landline and mobile calling services. Users may also share media items like pictures and videos. The service can be accessed on desktop platforms with no mobile connectivity, but users must register and be identified by a mobile phone number to utilize it.
Viber lets you start a secure chat without sharing or exchanging your or their contact numbers when you meet new people in a group or search for them by name. Additionally, you can set a timer for the messages to self-destruct.
Only user devices contain the encryption keys, claims Viber. As a result, not even Viber can view your messages.
7. Kik Messenger
Kik Messenger, also referred to as Kik, is a freeware instant messaging app for iOS and Android smartphones provided by the Canadian company Kik Interactive.
The application uses a user's smartphone's internet connection to send and receive messages, images, mobile websites, videos, doodles, and other information after they log in.
It is a great alternative to Telegram, which is renowned for its functions that protect users' privacy, such as enabling registration without requiring users to supply a working phone number or email address. Although the corporation collects user IP addresses, which can be used to ascertain the user's ISP and general location, the application does not use end-to-end encryption.
Kik's anonymity sets it apart from apps like Telegram and is one of its key draws.
8. Snapchat
Snapchat is a popular free chat application that is regarded as the best for its unique features. Snapchat's primary feature is that images and messages are often only accessible to their receivers for a brief time before being destroyed. Additionally, you may exchange images, and videos, and even make free phone or video conversations.
Peer-to-peer photo sharing was the app's primary function at first, but it has since grown to incorporate users' "Stories," which serve as 24-hour timeliness of information, and "Discover," which enables businesses to offer short, ad-supported content. Images can also be kept by users in a password-protected "my eyes only" area.
Users who want to contribute some of the most outstanding and engaging content to Snapchat can apply for the role of Snap Stars. Thanks to their distinct viewpoints, Snap Stars give their viewers unparalleled possibilities to explore a variety of hobbies, such as the performing arts, fashion, news, video games, music, and more.
Snap uses data from Google's Safe Browsing service to notify users of potentially risky websites such as phishing and malware.
9. Signal
Signal is a messaging program that offers all the features you would anticipate from a modern instant messaging app, with a heavy focus on privacy. Signal is one of the safest messaging apps on the market thanks to its open-source architecture, end-to-end encryption, and commitment to never accumulating user data. If you're seeking secure apps like Telegram, Signal's security and privacy-preserving technology has been lauded by users all around the world.
Signal also supports the sharing of locations, sending and receiving of multimedia, notably GIFs, and the configuration of messages to self-destruct.
10. WhatsApp
WhatsApp is the following app listed among apps like Telegram from Meta. It supports one-on-one and group chats with up to 1,024 members, as well as phone and video conferencing. Users may post media, format text, and save conversations to Google Drive and iCloud.
WhatsApp is accessible as a desktop application for Windows and Mac computers, as well as WhatsApp Web, which can be used using any web browser.
WhatsApp's recently announced 'community' feature successfully engaged existing users and onboarded numerous communities. WhatsApp has a distinct platform wherein business users can easily interact. It supports up to 2 billion people using it worldwide, allowing you to engage audiences, accelerate sales, and improve customer service outcomes. Furthermore, it enabled start-ups and small businesses to have secure enterprise-related communications.
Conclusion
There are numerous popular apps like Telegram, that might provide fierce rivalry. When compared to Telegram features, other apps, such as Clap Messenger, have some better capabilities that can easily exceed Telegram. So, whether you want the best instant messaging platform, Clap Messenger is the best option, or if you want an all-in-one/Super app that also offers messaging services, again Clap Messenger is the best option. So, choose wisely.