WhatsApp vs WeChat: A Comprehensive Comparison of Two Global Messaging Giants
2 months ago

|

By Md. Asloob Alam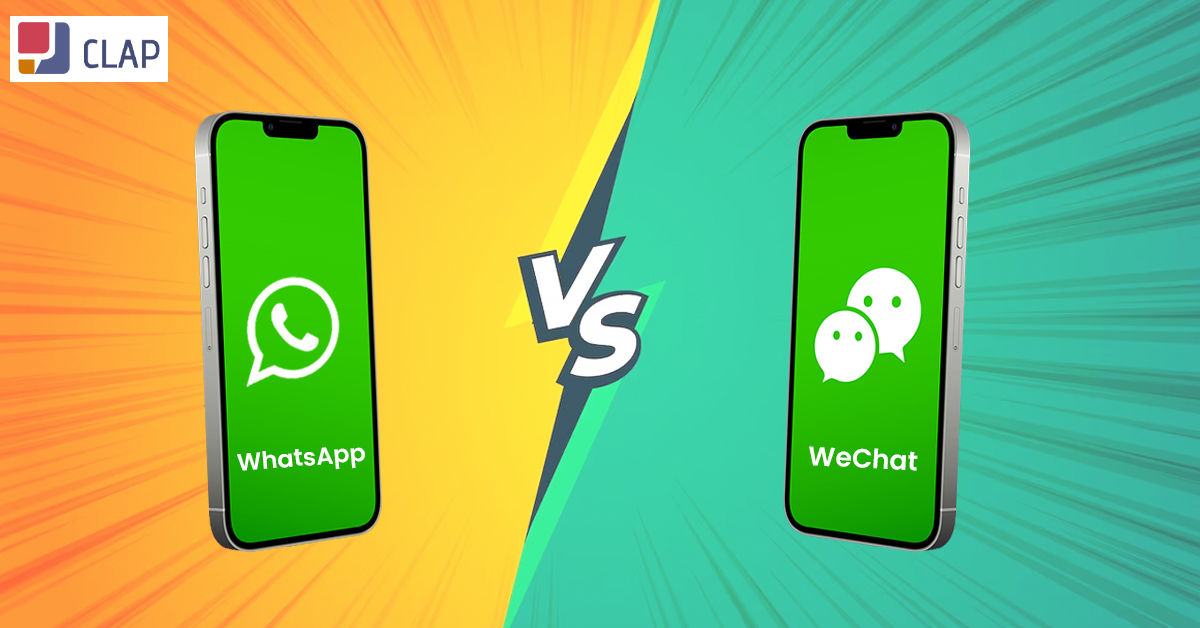 Do you know WhatsApp vs WeChat is one of the most contested issues among the giant global messaging services? Although both are messaging platforms, they are different in the capabilities that they provide to users.
Read the following blog post to learn a detailed comparison of WhatsApp vs WeChat.
Table of Contents
WhatsApp vs WeChat: Introduction
WhatsApp
Jan Koum and Brian Acton founded WhatsApp, a voice-over-IP and centralized instant messaging service that is free and open-source. In November 2009, iOS served as a turning point. Support for BlackBerry smartphones was enabled in January 2010. Support for Symbian and Android OS followed in May and August of that year.
The owner is the US-based IT company, Meta. Users can exchange documents, images, user locations, voice and text messages, audio calls, video calls, and other forms of communication.
According to rankings, WhatsApp Messenger is the market leader. It received praise for having a user interface that was simple to use.
While compared to its previous acquisitions, Facebook's purchase of WhatsApp in February 2014 for an incredible US $ 19 billion was widely recognized as a significant acquisition. Additionally, it aided Facebook's growth. Owing to its success, many apps like WhatsApp launched in the market but only a few have sustained.
WeChat
Weixin is the name given to it in China, and WeChat is the name used internationally. Social media, mobile payments, and instant messaging are all features of the Chinese program developed by Tencent. WeChat's initial release date was in January 2011 as a simple messaging and photo-sharing app.
Xiaomi's MiTalk, the first mobile messaging app, had 5M registered users long before WeChat launched, and it was the market leader then. Therefore, it sparked fierce competition, and WeChat did not experience rapid development following its initial launch. WeChat understood it needed to offer more than simple conversation to entice people away from rival mobile chat solutions and onto WeChat. It enabled voice messaging, allowing users to exchange brief audio notes, in May 2011, three months after its inception.
Voice messaging was a strategic approach at the time since users found sending voice notes to be convenient, intuitive, and personal for daily life since the native mobile keyboard was difficult to use to enter Chinese characters. With up to 1 billion monthly active users, it overtook short messaging services as the largest standalone mobile chat app in 2018. WeChat was one of the first messaging apps to provide voice, text, and images in a single package. Due to its extensive functionality, WeChat has been called China's super app.
WhatsApp vs WeChat: Common Features
WhatsApp
One-on-one chat, group chats, audio & video calls with up to 8 people, video messaging, creating groups with up to 256 people, muting or customizing notifications, and more are available with WhatsApp. If a user's file size exceeds a particular limit, users always have the option to use the Google Drive link. Introduce yourself. Say it with GIFs, voiceovers, stickers, and other methods. End-to-end encryption ensures that only the receivers can view your private messages.
WhatsApp features allow users to select contacts who can view them online due to the app's capabilities. Users can prevent their contacts from seeing the 'online' indicator appear on the chat if they do not want some (or most) of them to be aware that they are currently using a platform.
WeChat
While compared to WhatsApp, WeChat features like hold-to-talk voice messaging, location sharing, broadcast (one-to-many) messaging, video sharing, video calls and conferencing, video games, photos, and so forth are more beneficial. Additionally, it offers different options for randomly contacting people with the user's permission and the ability to exchange contacts with nearby users via Bluetooth. The social networking platforms like Facebook and Tencent QQ can be integrated with it.
Text messages, audio messages, walkie-talkies, and stickers are just a few of the several instant messaging options supported by WeChat.
Additionally, WeChat offers a message recall option that enables users to go back and remove messages made within two minutes of a chat.
You can connect with your WeChat friends through "Moments" and share the most fascinating moments of your life. It is an interactive platform that enables users to upload text, photographs, and brief user-shot films. Friends on the contact list can rate and comment on the content. If Facebook and Twitter are connected to Moments accounts, Moments can automatically distribute Moments content on those two platforms.
WhatsApp vs WeChat: Unique Features
WhatsApp
WhatsApp recently introduced "Community" as a new feature. With WhatsApp communities, users may create and bring together related groups under a single umbrella. Community administrators may reach members with significant changes by making announcements, and community members can stay connected by researching and engaging in groups that matter to them. To discuss subjects that are relevant to them and to get updates that are significant to the larger community, members can easily create smaller discussion groups.
WeChat
If you get a text message in WeChat that is not in your native tongue, long-press the message and choose "translate" to have it translated.
WeChat Enterprise was launched for businesses, employees, and communication in the workplace. Employees may request time off or clock in to demonstrate that they were at work, and employers could keep track of their leaves and any expenses that require to be reimbursed.
WeChat's newest significant feature, Time Capsule, enables you to share a little video story with your friends for a limited time.
Easy Mode is a brand-new feature that WeChat added to its platform. With larger letter sizes, sharper colors, and larger buttons, primarily created with older users in mind.
WhatsApp vs WeChat: Business
WhatsApp
WhatsApp Business is free for business users. It was created with the small business owner in mind and is available on Android and iPhone. Despite this, medium-sized and large enterprises may also use it to increase audience engagement, boost sales, and improve customer service results. It establishes communication with customers by allowing tools to automate, organize, and swiftly respond to messages. Additionally, it is designed to function and feel precisely like WhatsApp Messenger. So, users can adopt it without any alternate thoughts.
WeChat
WeChat Business exemplifies the mobile social network company framework that depends on connections and contacts to maintain a client relationship after e-commerce. WeChat Business attracts a lot of people since it has a wider range of influence and profits than other apps like WeChat and conventional E-businesses like Alibaba with less input and a lower threshold.
WhatsApp vs WeChat: Payments
WhatsApp
With the help of WhatsApp Pay, users may send payments to others on their contact list while in a chat. You can send and receive money with this UPI-based payment service. Following UPI principles established by the National Payments Corporation of India (NPCI), WhatsApp does not keep your card or UPI PIN information. You just need to add your bank account once to send and receive money from anyone using UPI-based apps.
You can send and receive money while chatting. No charges are applied to send or receive money from anywhere in India, divide expenses, or reimburse friends. According to RBI requirements, WhatsApp payment transaction data is encrypted and only stored in India.
WeChat
WeChat Pay, also officially referred to as Weixin Pay, is a digital wallet service that is integrated into Weixin that enables users to send money to contacts and make mobile payments. Users who have been given access to their bank accounts may utilize the app to pay bills, order products and services, send money to other users, and pay for purchases in stores that accept Weixin payments.
Every Weixin user holds a Weixin Pay account of their own. Users can add money to their Weixin accounts by connecting their debit cards, as well as by receiving funds from other users.
The Weixin Pay system is not an instant payment instrument because the funds' transfer between counterparts is not instant, which is the main difference between WhatsApp and WeChat payments. WhatsApp processes the payment instantly, but WeChat users receive immediate notification of the transaction. The customer's preferred payment method will therefore affect the settlement time.
WhatsApp vs WeChat: Security
WhatsApp
WhatsApp developed highly secure technology to give users access and is on hand to assist the user whenever they need it. According to reports, WhatsApp messenger security is highly strong. For instance, the majority of spam and scam accounts are found and deleted by WhatsApp before they can get in touch with you or before anyone reports them.
Along with providing two-step verification, WhatsApp asserts that end-to-end encryption is used by default to protect users' private communications. To give users more privacy and control over their conversations, WhatsApp is always working on new features.
Users of WhatsApp can use a security code verification feature that enables them to be sure they are chatting with the appropriate person.
WeChat
A distance sensor is also present in WeChat. Turn on the hold-to-talk feature on the receiver when you hold the phone to your ear. While the receiver was held at a particular distance from the ear, the sensor started to automatically switch off the phone speakers. This feature eliminates the possibility of an unintentional public broadcast of a user's voice communications.
All WeChat conversations you have will be saved to your device yet not uploaded to the server, ensuring that only you and your device will have access to them. no other person. You can chat in this way without being concerned that they will be stored on a server outside or in the cloud.
To be explicit, WeChat is undoubtedly one of the secure mobile messaging apps, but it falls short of WhatsApp's encryption techniques in terms of security.
Do you know that WhatsApp has been restricted in China since 2017 and that WeChat and other Chinese applications are also banned in India? So, if you're looking for a super app to utilize, you could be dissatisfied to learn that most super apps from other countries weren't made following Indian criteria. As a result, your only option is to utilize Indian super apps. But if you're looking for a WeChat alternative, read on to find out which app is like WeChat in India.
Clap Messenger
The super app Clap Messenger puts an end to your quest for a WeChat alternative. Its top-notch security protocols protect all forms of communication, including chat, audio/video conversations, photographs, polls, communities, document scanners, recording, screen sharing, password vaults, and more. To be precise, the aforementioned qualities are some of its features.
Setting aside the WhatsApp Vs. WeChat argument, you'll be happy to know that this super app with a messenger focus organizes all of your daily activities and helps you to maintain a balance between your personal and professional lives. It will also soon offer services for buying flight tickets, shopping, safe payments, etc.
Conclusion
I hope the above comprehensive comparison of WhatsApp Vs. WeChat has given you information about its features, benefits, and drawbacks that will help you choose one of the applications wisely.
However, to help you out, Clap Messenger, one of the top online chatting apps in India, is available if you're looking for the best chatting software. And the only surviving choice if you're seeking a super app is Clap Messenger. Consequently, you may use this super app for both purposes.